Part 2 of 2. Click here of you haven't read Part 1 of 2.
Because I'm a spoiled birthday girl.
Okay, so I have a pressing problem when it comes to liquid eyeliners.
I'm a monolid, so liquid liners tend to smudge all over my eyelids. D: Not cool. Plus, it's a pain to wait for it to dry. I've tried Nichido, Ever Bilena, Nyx, Careline and some others that I've forgotten. But it just doesn't work out.
SO! I tried out gel eyeliner! :D
It's my first time using gel OwO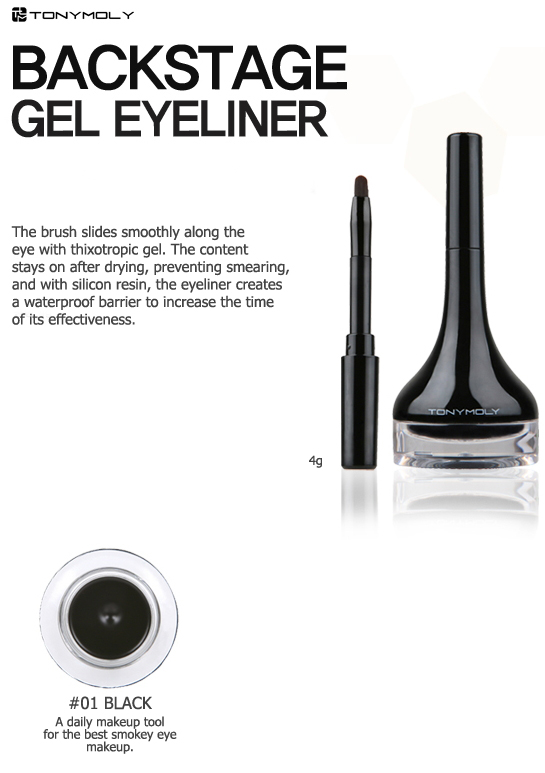 Product Photo
Actual photo.
I've read many reviews on many different kinds of gel eyeliners. Among the top of recommended brands (that are available in the Philippines) are Etude House and Tony Moly. I wanted to try Etude House's (because, geez, I was already there), but they didn't have that matte eyeliner anymore. (It was sold out.) They only had the glitter kind, and it didn't have black either.
So I was kinda stumped. I didn't know there was a Tony Moly branch in SM Megamall! :O Then we passed by and I thought, 'holy crap.' I immediately went for it.
Some photos of the product:
I have read some negative comments about gel eyeliners that are in pots. (Drying up easily, etc.) But some reviews on Tony Moly say otherwise.
The brush applicator itself is easy to use. It's stiff, but it feels soft on the eyelid. I think it's not too thick, but just the right thickness for any eyeliner style.
RETRACTABLE! :D
I love how the brush is retractable. It's cute, okay! XD
The one on the left is when I used the thinner angle of the brush, the one on the right is when I used the thicker angle. :)
It's well-pigmented, and it didn't cause me allergies or any kind of reaction. It dries really easily, so you can worry less about the smudging (even for monolids :3)
I tried to remove it with water and it didn't budge at all. After rubbing at it, it didn't erase much. But when I used wet wipes..
It faded considerably. Hehe. Wet wipes it is.
Hm.. what can I say.. It works well for me. Doesn't smudge, waterproof, and I pretty much recommend this for on the go gals. It stays on for quite a number of hours, and you barely need to retouch. :)
Color: 5/5 - It's a very intense black, not recommended for softer or more natural looks. But who would use black in a natural look anyway. XD Tony Moly has this in brown, too.
Quality: 4/5 - I originally thought that wet wipes won't be able to erase this. I thought that you might need an eye makeup remover for it. But yeah, it stays on well, doesn't smudge easily, and very easy to use.
Price: 4/5 - For Php498 ($11.43), I think it's a little pricey.
Repurchase? Hm.. Maybe, if I don't find another brand that's kinda cheaper.. although this surely has good quality and it actually lives up to the price.
The staff offered me a sort of promo. If I pay Php500($11.48), they'll be giving me a free face mask, another freebie of my choice and a Tony Moly membership card! :D